About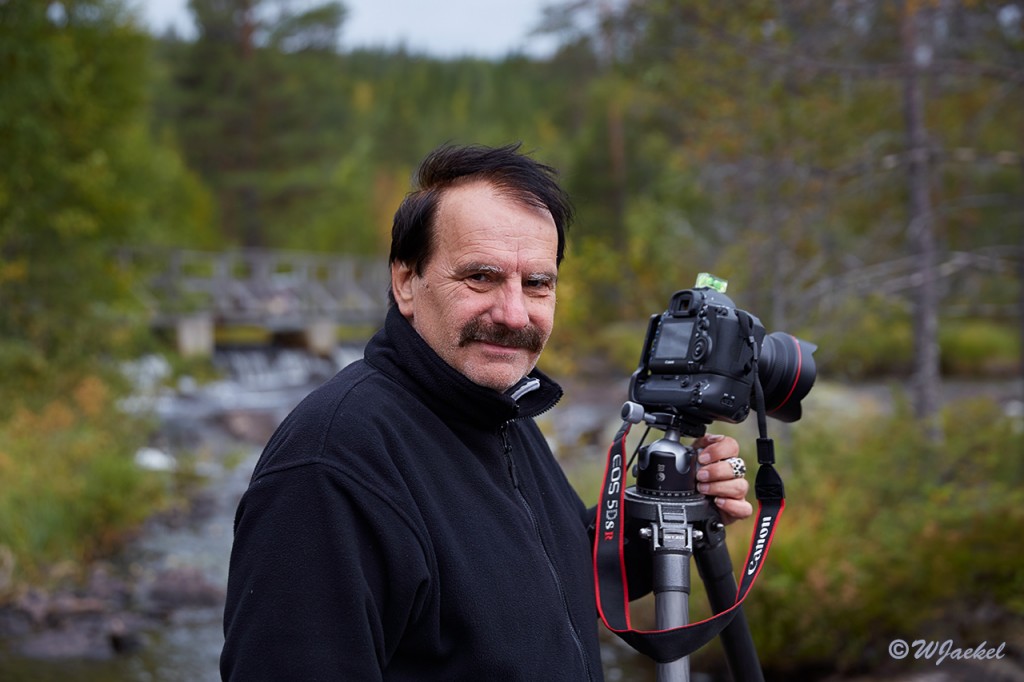 Landscape photography in Sweden 2015
Thank you for checking out www.wjaekel-foto.de. Through this site I want to share a collection of images that were photographed on my trips around the world. Most of the photos shown in the galleries were taken since my gradual switch to digital photography in 2002 after working with film for 25 years. For more than three decades landscapes have been my primary motifs, but within the last ten years the focus on wildlife has become more and more important, too. Especially the truly awesome beauty, the spectacular sceneries as well as the unique wildlife I've encountered in the the polar regions have fascinated me and inspired my photography. I have been fortunate to be able to travel to many other places, too, which you can check out on the list and map below or view in the galleries.
As to my biography, I was born 1952 in Heidenheim, Germany and studied Biology and Chemistry at the University of Tübingen. After my exams in 1978, I have been teaching Natural Sciences, Digital Imaging and other multimedia subjects at the local High School and have been charged with courses and workshops all over the German state of Baden-Wuerttemberg. Ornithology has been my one of my hobbys for a long time and one of the motifs for travelling back in the 1980s, too. I'm CPS Platinum member for many years.
The tentative beginnings of my photographic history date back to 1966 when my parents had made me the present of my first camera, which was the Dacora Super Dignette, manufactured by the German Dacora-Kamerawerk Dangelmaier & Co that had been overtaken by the American "Leach Relais & Elektronik" company before the production was stopped in 1972. My more serious engagement in photography started in 1978, when I bought the Canon A-1 as my first SLR from a gift of money I had got after I successfully had passed my final exams at the University of Tuebingen, Germany. This top model of the A-series was used by many professionals and was one of the best 35mm cameras at that time (altogether with Nikon's F series). It offered a modern viewfinder with just 7 red diodes indicating aperture and shutter speed.
The year 1984 implicated the unexpected death of this camera and the beginning of the EOS history for me. During a school exchange program with the Punahou High School in Honolulu, Hawaii, I was snorcheling in the Hanauma Bay on Oahu with my Canon A1 housed in an Aquamarine bag. This plastic bag manufactured for underwater photography had a small tear that I had not noticed before. Of course, the saltwater which subsequently had filled the bag was the exitus of my long-cherished camera. Though I immediately had showered the body with freshwater at the beach, the camera died after some final blinkings. That was a real shock for me. Nevertheless, I just had the choice of either giving up on photography for the remaining 3 weeks of my first stay on the beautiful Hawaiian Islands – or investing in a new camera. The A1 was not available there anymore, so I bought the Canon EOS 620 with the EF 35-105mm/f 3.6-4.5 lens as my first EOS and later added the EF 100-300mm/f 5.6 zoom. Back in 1984, the decision to go for Canon instead of Nikon or Minolta was not a matter of brand loyality at that time but more or less random. I could not foresee the need of quickly buying a new camera, of course. So I simply had not gathered any information before and was advised to buy the Canon, primarily due to its more modern mount. Some months after my return from Hawaii I bought the Canon EOS 650 as my second body. Step by step the equipment was growing in the next years by adding more lenses such as the EF 100mm/ Macro/f 2.8 , EF 80-200mm L /f 2.8 ("magic pipe") , 28-80mm/f2.8-4.0mm L USM, EF 35mm/f 1.4 L USM to name a few. As for the film bodies, I have owned the EOS 5, EOS 3, EOS-1, EOS-1 N, EOS-1V in the past 30+ years and still have some of them. I mostly had used Kodachrome 64 for archiving because of its longevity and velvia 50 for prints and slide shows
In those days my photography mainly was focused on landscapes, macro and travels in a wider sense. In the late 1980s and early 1990s, I just had used the manual Novoflex Follow Focus for capturing wildlife which included a pistol grip and the modular 600mm /f8 and 400mm /f5.6 Noflexar lenses. The components could be mounted on Canon, Nikon or Leica bodies via an adapter and cable. Optically the Novoflex was pretty good but perfect technique and good light were necessary given the fact that film speed just was acceptable up to ASA 400 at best because of the grain. Therefore the possibilities in the field were somewhat limited though the Novoflex system was owned by many nature photographers here in Europe who – just like me – could not invest in the fast big white pro lenses at that time. My first tele lens offering autofocus (and stabilization) was the Canon 300mm/ f4.0 L IS which I had bought in 1997 and used on my trip to Namibia. Later the same year a pre-owned 400mm/ f 2.8 L II USM was added to my gear.. That was the start of my more intense wildlife photography though landcapes and macros still remained my the prior motifs back in the 1990s. That changed after the purchase of the 300mm /f 2.8 L IS USM in 2003 and especially the 600mm /f 4.0 L IS so that wildlife and bird photography have become equally important for me.
The beginning of serious digital photography goes back to 2002 when I had used my first DSLR (Canon EOS D60) on the expedition voyage along the west coast of Greenland. You can view some of the images in the corresponding gallery. In the previous years I just had come across the Sony Mavica, which used 3,5″ floppy disks for storage at a capacity of around 1 MB each. However, in 2002 most of my work still had been based on slide film, captured with the Canon EOS 1N/1V and EOS 3 cameras. In 2003 the D60 was replaced by the Canon 10D (which I still have !) and shortly thereafter I bought the professional Canon EOS-1Ds as my first FF DSLR. Nevertheless, at that time I continued shooting film (mostly Kodachrome and velvia), too. That didn't totally change until around 2005/6 even though digital photography obtained priority with the Canon EOS-1Ds II and EOS-1D Mark II I had got in 2004. In the first instance I had given up on film by then.
Initially the final downfall of film left me with some nostalgic feelings after that long period of analog work but the professional digital cameras were beginning to equal the 35mm film cameras in image quality and the possibilities of post processing were fascinating, too. However, my enthusiasm for the technical progress and reliability of DSLRs received a severe setback after the release of the Canon EOS-1D Mark III and its ongoing AF saga. Though the image quality was superb and the best I had seen in a crop camera so far, the Servo AF of that camera was hit or miss with a considerable percentage of subjects being more or less out of focus not caused by any user error. The issue was widely discussed in the internet and proved in many serious tests without being aknowleged by Canon for a long time. Consequently I had missed a lot of peak actions on my whalewatching tour in Alaska. Many wildlife shots taken with the 1D III on my consecutive trip to the Denali NP weren't critically sharp neither. Given the already existing investment in lenses, a switch to another brand that was accomplished by many loyal customers was not an option for me. So I decided to revivify my film bodies and temporaliy was shooting both film and digital again until the spring of 2007. After the release of the Canon EOS-1Ds Mark III and at least since the launch of the EOS-1 D Mark IV I had given upon film for the second time and haven't used my film cameras anymore up to now
If you are interested in my current equipment and workflow please visit the Photography Link in the main menu
My images are displayed in digital presentations and exhibitions; the photographs and travel reports of Svalbard and Franz Josef Land were published in known national and international magazins including the leading German "Naturfoto" magazin and "Signature luxury travel" in Australia. My images of Kamchatka brown bears and Polar bears in the High Arctic were honored as winners in one of the most important European contests receiving more than 15000 entries from 35 countries.
Areas of Travel for Photography:
Germany: Lake Constance
Austria/Hungary: Lake Neusiedel
Norway: Southern, central and northern part, all along the coast, Lofoten, Svalbard
Iceland
Greenland: West coast (Disko Bay up to the Smith Sound), East & Southwest coast
USA/Canada: Nationalparks of the West and Northwest, Yellowstone, Grand Teton, Glacier NPs, Oregon coast, Vancouver Island, Yukon, Alaska, Hawaiian Islands
Canada: Wapusk NP, Churchill, Manitoba
Africa: Namibia – Etosha Pan, Skeleton coast, Namib Desert, Fish River Canyon, Kaokoland.
French Polynesia: Tahiti, Moorea, Bora Bora
Seychelles: Mahe´, La Digue, Praslin, Bird Island
Sweden: Hamra NP; Flatruet
Russia: Franz Josef Land, Kamchatka, Kuril Islands, Bering (Commander) Island
Costa Rica: Central Part (Talamanca Rainforest, Atlantic Low Land Forest, Atlantic Slope Cloud Forest) and South Pacific Coast incl Manuel Antonio NP, Central Pacific Coast
Ecuador: Tandayapa; Galapagos Islands
Brazil: Pantanal
Chile: Torres del Paine National Park, Patagonia
Argentina: Los Glaciares National Park, Patagonia; Valdes Peninsula, Argentinian coast
Antarctic Peninsula, South Georgia, Falkands
Japan: Jigokudani NP, Hokkaido, Kuril Islands
For more details please zoom in the map. Please note that the images openly linked with some locations by Google maps are not my photographs for which the copyright is reserved.