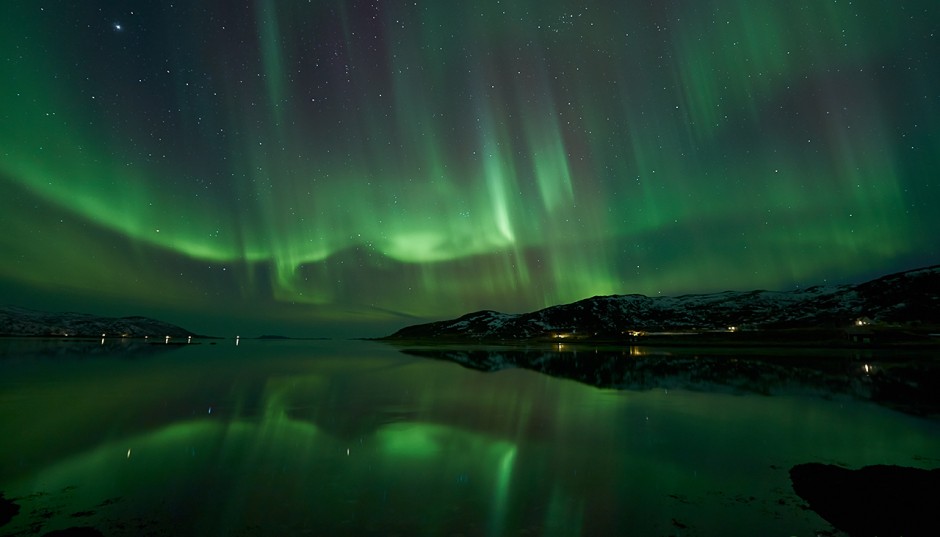 04/02/2014: Northern Lights Photography in Norway // Click here to open (or close) the description
The aurora is one of the most spectacular natural phenomena and never has lost its fascination for me over the decades. Once seen, it is never forgotten. I was lucky to watch the Northern lights several times on my winter travels to the North and I will always remember the goose bumps when I first had seen this spectacle on a voyage along the Norwegian coast many years ago. However, photographing the aurora is a different story. Considering the long exposure time, it's not possible to frame the scenery at night and obtain sharp images aboard a moving ship, of course. At best you can take some mediocre snapshots of the display above without including the landscape drifting by. Therefore it was my long-held wish to be in the right spot at the right time for properly shooting the aurora from the tripod on a picturesque horizon at the backdrop of an adequate scenery. In 2013/2014 the peak of the solar wind activity in its 11years cycle was predicted which should result in increasing geomagnetic storms and thus good chances of watching intense northern lights, – clear night skies permitting, of course.
In February 2013, I therefore had joined a special photo tour to TromsØ in Northern Norway which is the center of aurora research in Europe and a well-known location for watching the Northern Lights. TromsØ is situated within the auroral oval around the pole that also covers Iceland and Alaska with Fairbanks being the main center there. It was a fascinating experience so that I decided to join a second tour in the first week of March 2014 which was great, too. For the most part we were lucky with the weather again. Though we stayed out for many hours during the night, we also did some trips in the daytime for photographing some motifs in the TromsØ area.
The photographs of the Northern lights mostly were taken with the Nikon 14-24/f2.8 G ED zoom on the Canon EOS 1Dx using the Novoflex adapter. The Nikon zoom arguably is the sharpest ultra wide-angle zoom to date – especially at f 2.8. For some shots I also used the Canon 14mm/f2.8 L II USM, Canon 35mm /f1.4 L USM, 24-70mm/f2.8 L II USM zoom and Fisheye 8-14mm L /f4 mounted on the Canon 1Dx or 5d3.