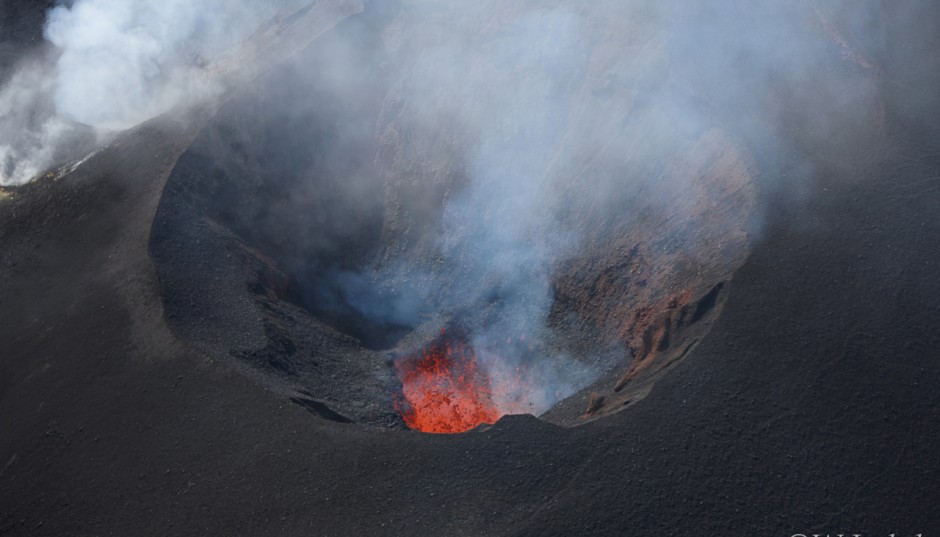 In August 2013 I took part in a photo expedition to Kamchatka which was my third visit of the Russian Far East. The eruption of the Tolbachik volcano that had started on November 27th 2012 and the spectacular photographs of the event I had seen so far were one of the main motifs to go there once again, hoping that the volcanic activity would still continue. During the climax of the eruption during 28-29th of November, fissures had spread over tens of kilometers in the summit area and the southern slope with several vents showing strombolian activity and lava flow emissions expanding 10 km. The eruption was heard in up to 60 kilometers distance. Tolbachik is one of Kamchakta's largest and most active volcanoes though there was a period of inactivity for the last 36 years. It is located on the eastern coast 343 km north of Petropavlosk-Kamchatsky in the Central depression of the peninsula at the southern end of the Kliuchevskaya volcano group, 23 km SW of Bezimianny volcano. It is is formed by 2 overlapping cones, the Ostry Tolbachik (3682m) stratovolcano in the west and the Plosky Tolbachik (3085m) shield in the east. If you want to view the stunning virtual tour of panoramic photographs taken at the peak of the eruption at the Plosky Tolbachik go
here
(Flash required)
Our typical Russian 4×4 converted military truck took us to Esso which is located 500 km from Petropavlosk, necessitating a tiring 8 hour drive on the mostly unpaved and bumpy road. On the next day the helicopter dropped us at the volcano so that we could climb onto the crater. Almost 8 months past the beginning of the eruption there were no massive and spectacular lava fountains and visible lava flows anymore, though. Nevertheless, standing right on the rim of the crater and looking into the bubbling lava fire was an unforgettable experience and well worth the efforts. We could stay nearby the rim just for taking a few photographs because of the dangerous emissions of sulfur dioxide and lava bombs still striking around us.
Of course, the revisit of the famous Kamchatka brown bears at Kurilskoye Lake was another highlight of the trip. A 10km trail to the source of the Hakytsin River offered us numerous close encounter with the hunting bears at eye level and many great photographic options though the time for stops along the way was limited. During a boat ride on the Kuril lake we were also looking for the Stellar's sea eagle but only saw one bird in a less than optimal position on a rainy day. Landing by helicopter in a small area on top of the Mutnoswky volcano where snow and glacial ice meet fumaroles and volcanic gas was another impressive adventure. Mutnovsky is also one of the most active volcanoes of Kamchatka and is situated just about 70 km away from Petropavlosk. The mystic steam –veiled scenery amongst the colorful and partially ice-covered volcanic formations was amazing and seemed to point at the entrance of hell.
A selection of my photographs can be viewed in the slideshow (Flash required). Detailed information and GPS-data are added to these images in the gallery below. For some revisited places please see the gallery of 2010, too. The photographs of the scenery for the most part were taken with 24-105mm/f 4.0 IS, 24-70mm/f2.8 II, 70-200mm/f2.8 II IS zooms on Canon EOS 5d3, and 1Ds Mark III bodies. For capturing the wildlife I had used the new and excellent 200-400mm/f4.0 + 1,4x IS and 600mm IS II lenses, optionally with 1,4x converter, as well as the 100-400mm/f 4.5-5.6 IS zoom mounted on 1Dx and 1D Mark IV cameras.